Ontstaan van Motherware.com
op 26 november 1999.
---
Eind jaren '90 werkte ik bij een firma die samenwerkte met een bedrijf dat ook deed aan webhosting. Dat was toen nog niet zo uitgebreid allemaal als tegenwoordig maar toch. In gesprek met collega's besloten een aantal van ons een emailadres en een domein te nemen. En dat leek mij ook wel wat. Over de naam hoefde ik niet lang na te denken.
Ooit toen ik nog bij het C.A.W.C.S. werkte hadden we al de uitspraak:
"Je hebt Hardware, je hebt Software en je hebt Motherware".
Dat laatste sloeg dan op mij omdat ik daar bij de marine natuurlijk programmeerde, en altijd heel andere ideeën of oplossingen had dan alle andere collega's. En natuurlijk omdat ik moeder was en her en der ook met "Mother" signeerde.

Dus dat werd "Motherware".
En om het internationaal te houden werd dat een .com domein.
Vandaar dat op 26 november 1999 het domein www.motherware.com werd geregistreerd. Daarna moest er natuurlijk wel een website komen. Dat was een probleem want ik had toen nog geen idee hoe je zoiets deed. Het internet was nog lang niet zoals tegenwoordig. Dat je maar even gaat google-en en dat er van alles naar voren komt wat je als voorbeeld of startpunt kunt gebruiken. Er heeft dus een hele poos alleen maar iets van "under construction" gestaan.

---
Motherware 2000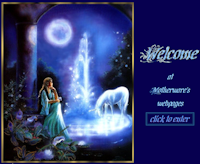 Pas tegen november 2000 verschenen er wat webpagina's. Heel ouderwets, met een "click to enter" voorpagina. Met een unicorn plaatje wat volgens mij freeware was en dat ik ergens ooit was tegen gekomen. Dat plaatje heb ik heel lang gebruikt. Ik heb er alleen nooit een grotere versie van kunnen vinden en hoe het origineel heet weet ik ook niet.
Ik schreef de website in HTML met een tekst editor die platte tekst kon opslaan. Met javascript dwarrelden er herfstblaadjes naar beneden op de home pagina. Ik maakte toen nog driftig gebruik van frames en tables voor de opmaak van de pagina's. Voor het menu gebruikte ik "Coolmenus" (dat was met javascript voor het uitklappen)
Er waren pagina's voor de kinderen, een aantal pagina's over Den Helder (toen ook al in het engels). Maar ook een aantal pagina's over
Halflife
(een "first person shooter game" van "Valve".) Dat speelden de kinderen en ik heel veel in die tijd. En dan natuurlijk de pagina's over de honden die we toen hadden. Als laatste een aantal pagina's gevuld met unicorn pictures die ik op internet had gevonden en die freeware waren.
Deze pagina's hebben er eigenlijk jaren onveranderd gestaan. Ik had ook een gastenboek, van
"Dreambook"
, maar dat bestaat sinds 2015 niet meer.
---
Motherware 2008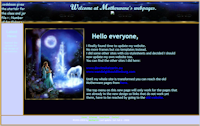 Tegen 2008 verhuisde de website naar XS4All. Inmiddels had ik oa voor mijn neef en een kennis van die neef, ook een website gemaakt, maar dan zonder frames en met stylesheets voor de layout. Voor het menu gebruikte ik inmiddels "Allwebmenus" om de menu layout te maken. Dat deed ik ook voor Motherware. Bovendien werkte ik met een aantal losse files die apart van de pagina werden ingelezen. Dat betrof de header, de footer en het laatste nieuws. Op die manier hoefde ik dat niet steeds op elke pagina aan te passen als er iets veranderde. De voorpagina had nog steeds hetzelfde plaatje met de unicorn en de fontein. De inhoud was nog ongeveer hetzelfde, maar het menu bovenaan was minder druk.
Hierna was het jarenlang stil tot ik in 2014 overging van XS4All naar Argeweb. Niet omdat XS4All niet goed zou zijn, maar vanwege de financiën. Ik heb nl ook meteen mn abbonnement voor mn telefoon bij KPN opgezegd en ben overgestapt op Ziggo voor telefoon, internet en televisie. Het scheelde me een heleboel geld om niet alles apart te hebben maar alles bij elkaar. Bij Argeweb installeerde ik Joomla omdat het me makkelijker leek om daarmee een site te maken en te onderhouden. Na de installatie van Joomla heeft er op Motherware heel lang alleen een standaard Joomla pagina gestaan. Pas in 2017 kwam daar verandering in. In de tijd ervoor had ik met Joomla op de site van mijn neef een hoop problemen gehad. Die site werd steeds aangevallen door hackers uit rusland en omstreken, ondanks het feit dat ik Joomla up to date hield. Dat betekende iedere keer Joomla opnieuw erop zetten. Daar had ik voor Motherware niet zoveel zin in dus ik zocht iets anders. Ik besloot toch maar weer handmatig te gaan schrijven maar dan gebruik te maken van
Bootstrap
. Dat is mobile friendly en hiermee kun je een goede, responsive website bouwen. Na wat experimenteren kreeg Motherware een paar nieuwe pagina's. Weliswaar testpagina's maar toch. Achter de schermen, dus lokaal op mijn pc, vorderde de site aardig. Sinds 2020 is deze dan online! Geen unicorn thema meer, maar een fantasy thema, en de boom is natuurlijk vanwege de stamboom.
Nog bij lange na staat niet alles op de site wat ik erop wil hebben, maar het begin is er nu.
Veel plezier op Motherware.
Groetjes,
Mother10