Wie ik ben,
en wat ik doe.
---
Ik ben geboren in Amsterdam en woonde in Amsterdam-Noord. Daar ging ik ook naar de kleuterschool en de lagere school. De lagere school stond aan de wingerdweg en werd daarom volgens mij ook de wingerdweg school genoemd. Maar de officiele naam van de school was waarschijnlijk Resedaschool, en deze lag inderdaad aan de wingerdweg (28-34). Het oude schoolgebouw is nu een monument.
Reseda school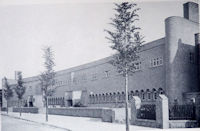 Ongeveer halverwege de jaren 50 verhuisden we naar een plaatsje dichtbij Alkmaar. We hadden daar een groot huis met veel tuin en er was bos vlakbij. Daar ging ik naar de Molen-weg-school ("Teun de Jager"). Er stond inderdaad een molen vlakbij die school, die molen staat daar nu nog.

Voor het "zevende leerjaar" ging ik naar Alkmaar, aan de van Oostsanen-kade. Die school heette volgens mij de Kohnstammschool of zo, maar daar ben ik niet zeker van. Ik kan niet veel vinden over die school, alleen dat er kennelijk in latere jaren studenten woningen in zijn gemaakt. Het zevende leerjaar was een soort "tussenjaar" tussen de lagere school en het hoger onderwijs zoals HBS en VWO. Oorspronkelijk zou ik daarna naar de Rijks-HBS in Alkmaar gaan, waar ik ook al toelatingsexamen voor had gedaan. Maar omdat rond die tijd mijn oma van moeders kant overleed, vroeg ik mijn vader of ik naar het Christelijk Lyceum mocht aan de Fabritiusstraat. Daar deed ik de HBS-B opleiding, met eindexamen in 1968. Tegenwoordig heet de school "Christelijke Scholen-gemeenschap Jan Arentsz".


---
De volgende stap ging naar Utrecht, om Biologie te studeren. Dat heb ik bijna 3 jaar gedaan. Ik woonde op kamers in de stad. sMorgens ging ik naar college, die werden gegeven in allerlei oude gebouwen in de binnenstad van Utrecht. Dat betekende dat je tussen de colleges door op de fiets langs de grachten en door de straatjes van oud Utrecht heen moest.
En smiddags had je dan praktijk op "De Uithof" dat toen nog werd gebouwd. In de lunchpauzes liepen we vaak door
Amelisweerd,
een prachtig bos ten zuiden van de Uithof met hele oude bomen, heldere meertjes, en fiets- en wandelpaden. Een aantal keer ben ik in Utrecht verhuisd naar een andere kamer, dan moesten mijn spullen dus meeverhuizen. Hoe verhuist een student ..... inderdaad met een bakfiets (delivery bicycle).
De biologie studie heb ik echter niet afgemaakt vanwege de scheikunde, dat was voor mij zo onlogisch daar begreep ik echt helemaal niets van en dat wezen de cijfers helaas ook uit. Wel had ik interesse in een programmeer cursus Algol die daar werd gegeven, en die heb ik dan ook op eigen houtje gevolgd.
CAWCS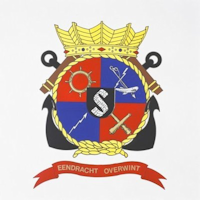 Rond die tijd (1971) kwam er ineens een advertentie voorbij in de krant, waarin de Koninklijke Marine uit Den Helder programmeurs zocht, die ze zelf intern zouden opleiden. Dat heette toen het C.A.W.C.S. (Centrum voor Automatisering van Wapen en Commando Systemen) Let op het logo, daarin is nog papertape zichtbaar, een gangbaar medium in die tijd.
Omdat de biology studie zonder scheikunde nooit goed afgerond kon worden, en het programmeren me erg aansprak, besloot ik hierop te solliciteren. Als adres bij de sollicitatie, schreef ik het huisadres van mijn ouders op en niet mijn adres in Utrecht. Pas veel later begreep ik dat dit nu juist de reden was dat ik bij de 6 gelukkigen hoorde, die werden uitgekozen. Ze kozen namelijk op geschiktheid en kortste afstand.
Na een interne opleiding, gegeven door diverse marinemensen die zichzelf ook hadden opgeleid, werd ik uitgekozen om op de support afdeling te komen. Daar nam ik het onderhoud aan de
Jovial compiler
over van een engelsman (George). Een jaar later heb ik ook een leerboek Jovial geschreven voor intern gebruik, en hieruit programmeer les gegeven aan heel wat officieren en manschappen.
Amiga 500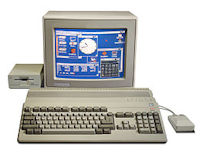 Onderhoud, support en lesgeven heb ik een aantal jaar gedaan, daarna werd ik geplaatst bij de Daisy groep, om mee te werken aan het software-systeem dat gebruikt werd aan boord van de marine schepen. In die tijd leerde ik ook mijn man kennen, we trouwden en kregen drie kinderen. Na de geboorte van de tweede werd ik huisvrouw, maar wel eentje die in haar vrije tijd altijd met computers en programmeren bezig bleef. Er kwam al snel een Amiga, en daarna een pc. Ik leerde mezelf Object Pascal, en later Delphi, en maakte voor de eigen kids wat spelletjes. Zelfs werd ik "computer moeder" op de lagere school van mijn kinderen en gaf computer les aan alle klassen.
Ik denk dat wij in die tijd (eind jaren 90) bij de weinige mensen behoorden, die toen al een compleet thuisnetwerk hadden, zodat alle kids vanaf hun eigen kamer met eigen pc het internet op konden. Zelfs "het eten is klaar..." ging af en toe per chat.
---
De kinderen werden groter en na enige jaren ging ik op zoek naar Delphi programmeer werk dat ik vanuit huis kon doen. Alles via een VPN verbinding. Dat heb ik een aantal jaar gedaan. Ook heb ik nog een half jaar les gegeven als computer leerkracht op een middelbare school. Uiteindelijk belandde ik bij een software bedrijf in Almere,
Piramide
(nu Idella), waarvoor ik, ook vanuit huis en via VPN, een deel van het testwerk voor hun software verzorgde. Dat heb ik bijna 12 jaar gedaan tot mijn pensioen in september 2015.
Sindsdien heb ik eindelijk een beetje tijd gekregen om opnieuw wat aan genealogie te doen en om mijn website weer op te pakken. Omdat ik ook vaak andere dingen doe was er tot nog toe op de website niet veel anders te zien geweest dan wat testpagina's, maar dat is nu veranderd.
Tussendoor heb ik, sinds 2004 ongeveer, wat websites gemaakt voor vrienden, familie en dergelijke. Eerst "met de hand gecodeerd" (oftewel HTML intypen) gebruik makend van diverse hulptools, en later gebruik makend van Joomla.
Nu werk ik dus aan mijn eigen website, en aan onze stamboom. Af en toe zal ik artikeltjes gaan schrijven over hoe ik bepaalde dingen heb gedaan en/of opgelost. Dan kunnen anderen hopelijk ook profiteren van wat ik gemaakt heb. Ik heb zelf immers ook jarenlang van alles van internet afgeplukt.
Veel plezier op mijn site.
Groetjes,
Mother10